| Air Fryer | Ninja AF150AMZ | COSORI Air Fryer | Instant Vortex 6 in 1 |
| --- | --- | --- | --- |
| | | | |
| Nonstick Material | Ceramic | Stainless Steel | Stainless Steel |
| Maximum Temperature | 400F | 450F | 400F |
| Features | built in spout for pouring liquids, fold down handles | dishwasher safe, cool touch handles | scratch resistant, vented lid, removable tray |
| Cooking options | 5 Air fry, Air roast, bake, reheat, dehydrate | air fry, roast, bake, toast, reheat, fry | roast, dehydrate, bake, reheat |
| Price | Check price | Check price | Check price |
Teflon is usually associated with cancer when it comes to cooking. There's however a risk free option with teflon free air fryers
What is Teflon?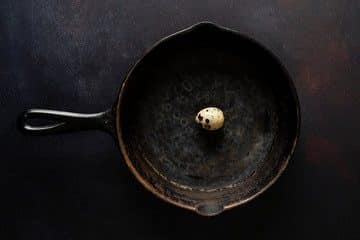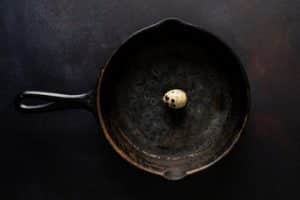 Teflon, Polytetrafluoroethylene (PTFE) is a synthetic polymer that is used to prevent burnt food from sticking to pots and pans. it has hydrophobic properties that makes a great nonstick coating by self-lubricating.
The safety of Teflon however is always in debate reason being it does not guarantee safety. Overheating Teflon, may cause serous long term health effects in humans like cancer. At temperatures exceeding 570° Fahrenheit (300° Celsius). The polymer breaks down releasing harmful fumes into the air. This is however rare since it is near impossible to achieve these temperatures in an air fryer. Also, after a while, the coating starts to peel off and no one wants the flakes dissolving in the food. It definitely isn't safe.
Nevertheless, it's better to be safe than sorry. For this, I recommend the Teflon free air fryers that come in a variety of ways by different brands. The top recommendations are;
My top choices on air fryers without Teflon
Many air fryers nowadays employ the above techniques in design and the product is Teflon free air fryers that are inarguably safer than their PTFE coated counterparts.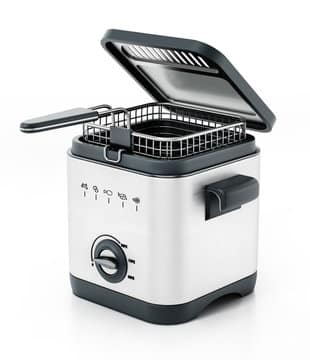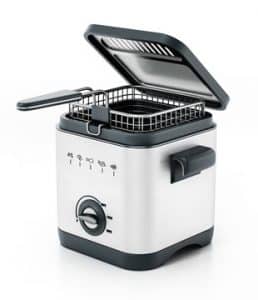 Stainless steel is the most popular cookware option that acts as a substitute for Teflon. With correct use, stainless steel produces astounding results that match those of Teflon. With little to no sticking, stainless steel is the best option.
Stainless steel is also designed in various ways in air fryers to achieve optimal results.
Although slightly smaller than the rest of the family, the air fryer can generally perform like the others.
Features.
Has a 60-minute timer that allows for more cook time than most of the air fryers. Tan average temperature range of 350° F is enough to cook whatever you want. It is stress free to clean since most parts are dishwasher safe. Thanks to the smart preset button, it can even be handled by children.
Outlook and Dimensions
It comes with white, black and grey options which is very generous since most air fryers are sold with only one option. It has a digital touchscreen interface at the front of the appliance that contains the control system. The cord is 31.5 inches long which allows you to put the fryer wherever you want on the preparation table. Not the normal confinement to the kitchen outlet. It has a uniform length width and height of 1.2 inches and a weight of 19 pounds.
From healthier cooking by using stainless steel instead of Teflon, this air fryer also has a smaller footprint by 20 percent than other air fryers.
Features
It has five presets for cooking that include a "keep warm" function keeping food ideally warm after cooking for up to 30 minutes. Using is quite easy. The quick control option allows you to set the temperature and timer and that's all. The 0.82-liter capacity allows for 4 servings. For efficient storage, the plastic handle is detachable. Comes with a free recipe book that contains over 200 recipes.
Outlook and Dimensions
It only has a black purchase option. It has a weight of 15.08 pounds precisely which is quite light for its capacity. It measures 1.4 by 10.5 by 11.3 inches.
Features
The 1700-watt stainless heating element provides a high performance and the circular heat technology cooks food evenly and makes it crispy. Has a 10-liter capacity which allows cooking of food that is up to 8.8 pounds. A lot. Right?  A touchscreen digital interface makes it more than easy to use. The parts are dishwasher safe and hence very easy to clean. Has a transparent front window allowing you to watch as your food cooks.
Outlook and Dimensions.
Is black in color and weighs 19.75 pounds. It has a 17-inch height.

The modern classy look of the air fryer makes it an obvious pick.
Features
Control is by use of two manual knobs at the front and has a 1.6-liter capacity which is reasonable for most household cooking needs. Has a 30-minute timer which is as well adequate for all day to day kitchen needs. The stainless steel cooking basket is detachable as well as dishwasher safe. The temperature control if from 180°F to 400°F. with this, you can cook anything you want.
Outlook and Dimensions
Comes only with the white purchase option. It weighs close to 13 pounds and measures 11.4 by 13.29 by 10.5 inches high.
The stainless steel basket gives it a nice attractive look.
Features.
All the important information is displayed in a blue digital display and is controlled by four small buttons. You are able to set the temperature and time plus, minus and to start/pause. A 60-minute timer and a temperature range of 140 to 440° F have all your cooking needs catered for. it is fitted with a cool touch handle that prevents hand scorching when handling. Also has an automatic shutoff as part of the safety features. Comes with a 36 recipe book that starts you off.
Outlook and Dimensions.
Comes with the black option.  the incorporated metal accent in the handle and a few other places give it a more desirable look. Weighs only 3 pounds and measures 11.2 by 12.4 by 11.6 inches.
Apart from steel, copper can also be infused in air fryers to serve the same purpose. Copper, also has a distinctive color that make the air fryers appearance quite eye catching. Copper also has nonstick properties guaranteeing you minimal food sticking.
The copper and ceramic combination makes it unique in the air fryer market.
Features
The infusion of copper and ceramic for the coating is nonstick as well and quite distinctive. You are guaranteed that the coating will not peel off and therefore no need to be afraid of the flakes in your food. It has a temperature range of up to 400° F, a 30-minute timer and a 3.3-liter capacity. It includes a cool touch handle and guarantees freedom from all harmful polymers like PTFE. Also, it has a cord storage unit that makes it easy to store.
Outlook and dimensions.
It only comes in the black option. it weighs almost 13 pounds and measures 14 by 11 by 13 inches.
The copper nonstick coating makes cleaning the appliance a walk in the park.
Features
It is one of the air fryers with the most cooking presets. It has seven presets which include; air fry, bake, steam, roast, sauté and grill. It comes with an accessory kit that has a baking insert, pizza pan and cooking tons. The digital one touch interface makes cooking with this air fryer unruffled. It accommodates low or no fat cooking since no oil or butter is required. It has a temperature range of up to 400°F
Outlook and Dimensions
It is available in black. It weighs 12 pounds and measures 14.9 by 12.5 by 14.5 inches
Instead of metals or any polymers, these air fryers infuse the traditional ceramic coating to achieve healthy cooking.
Use of ceramic coating makes your cookware scratch resistant on top of making your cooking as healthy as possible.
Features.
By eliminating the need for oil, this air fryer is the healthier go to option. the Teflon free ceramic dishwasher safe parts have unattached heat conduction and guarantee you excellent results as they do not peel ever. Have a lifetime warranty which guarantees you service for as long as you need.
Has a temperature range of 400° F.
Outlook and Dimensions.
It is available in black and has capacity of 5 liters. It weighs almost 15 pounds.
Glass bowls in air fryers allow you to see your food while cooking. Apart from this, you are also guaranteed toxin free food since the glass bowl is free from PTFE.
Features
Two manual knobs at the top of the appliance allow you to set the controls on how you want to cook your food. It also has the suggestions for cooking the most common foods printed on the air fryer. You can easily monitor how your food cooks without opening the fryer. It has a second shelf that allows you to cook two foods at once.
Outlook and Dimensions
Comes in a variety of colors, so you get to choose whatever color that matches with your kitchen décor. The colors are black, copper, graphite, blue, white, purple and red. It weighs 15 pounds and measures 16 by 12.5 by 13.5 inches.
Summary
Although the cookware regulatory agencies term Teflon to be safe for cooking, if you do not want to use it, you can go with the above options. Get your pick. This are the best Teflon free air fryers that are in the market.